Dinosaur Eyelids Return to John & Peter's in New Hope, PA on October 28, 2023
Thanks to John & Peter's, Child Bite, and all our friends who came out on 8/1
New Brunswick Today features In-depth Interview with Evan:
"Dinos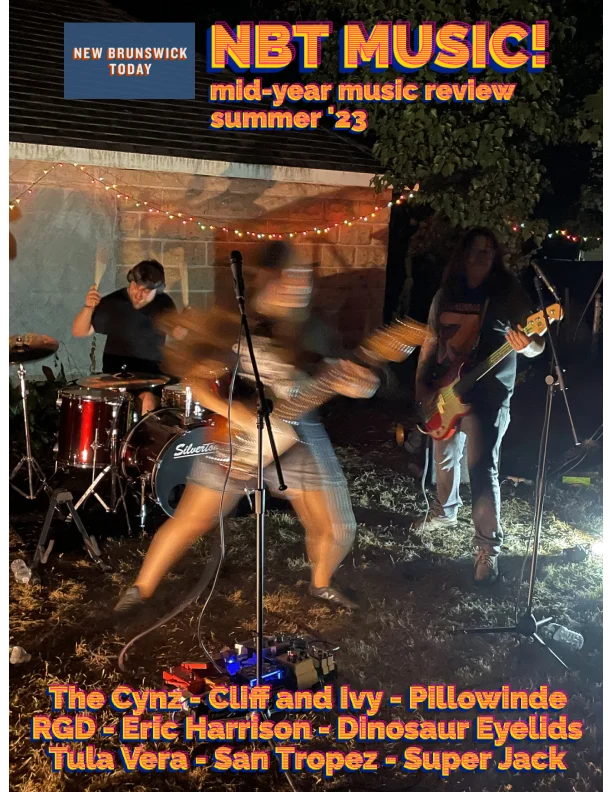 aur Eyelids is a hard-rock outfit formed in New Brunswick in 2009. They lived two blocks from the Court Tavern and made it their performance hub and practice space, catching the tail end of Bobby Albert's ownership of the club. This year Dinosaur Eyelids released the full length album "The Last Beard," recorded live at the Court Tavern in 2016. Music reporter Bennett Kelly spoke with singer and guitarist Evan Staats by phone in June…" (July 14, 2023)
New Jersey Stage praises The LIDS' new live rock and roll album:
"I spent a lot of time at The Court Tavern, seeing a lot of amazing local bands, among them, Dinosaur Eyelids. Their latest release, "The Last Beard: Dinosaur Eyelids Live at the Court Tavern", is a 2016 concert from the, sadly, now demolished venue. This is a high quality live recording from this venerable alt-grunge-hard rock band, that showcases why I've seen them live so many times."- Lazlo, New Jersey Stage, BlowUpRadio.com (April 18, 2023)
March 28, 2023
We're excited to announce the release of "The Last Beard: Dinosaur Eyelids Live at the Court Tavern." This is a blistering 2016 live recording from the most infamous basement in rock in roll. 
 Now available on Spotify and Apple Music.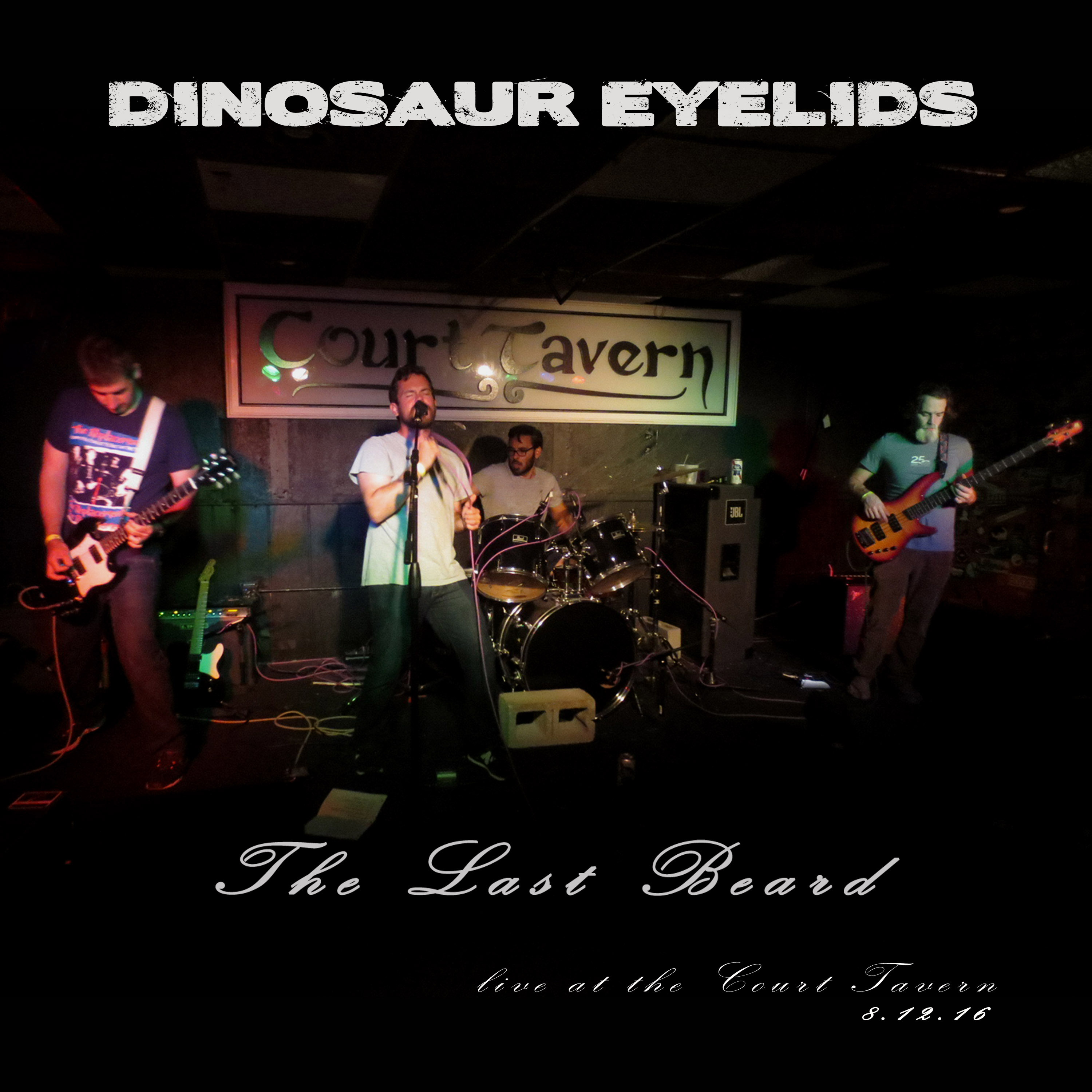 More news coming later in 2023. Stay tuned.
October 15, 2022
Dinosaur Eyelids lose friends and alienate people with their fresh new single "Faded." We hope you like syncopated riffs. Just kidding, we don't care what you like.
August 14, 2022
WRAT 95.9 selects "Munchausen by Proxy" as the Jersey Rock video of the week! "Dinosaur Eyelids' latest single "Munchausen By Proxy" is a catchy, driving track that stays in your ears...We love their attitude and we love their sound."  
July 23, 2022
The wait is over. Our new single "Munchausen by Proxy" is climbing the extreme bottom of the imaginary charts. Don't worry, we're saving up for music lessons.
February 23, 2022
Dinosaur Eyelids credited with ending the pandemic. Health officials report that the band's shows are incredibly successful at dispersing indoor gatherings of 10 or more people.
June 15, 2021
Dinosaur Eyelids announce cancelation of 2021 World Tour of New Jersey. We aren't worried about Covid, we just finally decided to try and learn how to play our instruments and realized it could take a while.
December 1, 2020
New LIDS album "Sticker Famous" Praised by Jersey Beat
"Featuring a hard rock and garage edge and appeal that completely knocks the listener on their ass, the album showcases a heavy guitar sound, rhythmic twists, and varied vocal range. Though Dinosaur Eyelids are cooking up their very own snake oil, comparing or likening them to greats such as Fu Manchu, Hot Snakes, and New Jersey's own Rye Coalition seem accurate. As I finish my review and try to nail down the recording's 'absolute halcyon moments, whether I'm being reminded of the Foo Fighters best days on "Shake" or "Never Leaving Here," the fiery guitars featured within "Never Gonna be your Woman" or on songs such as, "Nogward Spiral" and "Shot to Shit" Owhere the vocal range seems to be channeling that of Chris Cornell,) I found Sticker Famous to be an incredible rock album. One that delivers on all cylinders." - James Damion, Jersey Beat
November 1, 2020
LIDS release "Shake" music video. 
August 13, 2020
LIDS featured in the Asbury Park Press as a must-listen band of 2020.
"The album "Sticker Famous" is a grungy joy, with hooks, looks, yelps and lots of distorted rock god gee-tar. You'll dig it." - Chris Jordan
June 7, 2020
Dinosaur Eyelids named Band of the Week by WRAT 95.9FM
"If you're looking for a loud, driving, energetic Rock show, than you need to see Dinosaur Eyelids.  Like the mighty thunder lizards that once roamed the earth, Dinosaur Eyelids dominates the stage with their powerful brand of Rock and explosive performance style.  Of course In a time where live shows are not permitted, those statements may seem like a cruel joke.  How can anyone, in this moment, possibly experience a proper Dinosaur Eyelids performance?
Enter the band's new album.
"Sticker Famous" was recorded and mixed in just 4 days.  The goal was to make a studio album that was as close to a live performance as possible.  We're happy to report that goal was reached.  "Sticker Famous" takes it to the audience with 11 high octane tracks that will make the listener feel as though he or she is in the middle of a crowd somewhere on the New Brunswick music scene.  If you miss the live, local concert experience this is the album to crank. The band gets bonus points for the clever title.  Dinosaur Eyelids is literally "Sticker Famous." Just look around the Jersey Rock scene and you will no doubt see many of their rectangular stickers, many of which read "We May Never Be Rich But We Will Always Be Loud."  The new album is rich in loudness.  Check it out now at dinosaureyelidsnj.com!
Tune to Jersey Rock on 95.9 The Rat Tuesday, Wednesday, and Thursday at 11:30 pm to hear cuts from "Sticker Famous." Evan will call in to the show each night to represent the band!"
May 3, 2020
The reviews are in, Sticker Famous is our best album of the year.
"On the recently released Sticker Famous, the 'Lids breathe new life into the much-maligned genre of stoner rock, with Patrick McKnight's fierce wah-wah'd guitar solos and Evan Staat's soulful, wailing vocals. Part Monster Magnet, part Soundgarden, and all rock 'n' roll, the band delivers classic Zep swagger on "Never Gonna Be Your Man," deft indie-rock on the clever "Munchausen by Proxy," and droll punk crunch on "Dead Celebrities." If you're looking for something a bit retro but nonetheless heavy and hard, give this a listen." - Jim Testa, NJ.com
"Will their sixth release be the charm for New Brunswick's Dinosaur Eyelids? They certainly deserve it. Dinosaur Eyelids continue to play a brash brand of do-it-yourself indie rock that has been compared to everyone from Nirvana, Blind Melon, Soundgarden, The Pixies, Mudhoney, and Neil Young. In other words, this pure rock 'n' roll band is original. Check out such Sticker Famous tracks as "Shake," "Nogward Spiral," and the not safe to broadcast at work "Shot to Shit" for proof." - Vinny Cecolini, The Aquarian 
"'Shake,' an exciting rager that could make a dead man dance while making a stoner smile....'Shake' may be their best song...I congratulate this band on still rocking out six years later...which is an impressive feat in today's fickle, fleeting world of indie rock." - Bob Makin, Makin Waves
March 16, 2020
It's official. Our new album "Sticker Famous" is now available on Spotify, Bandcamp, Amazon, and iTunes. Make us the soundtrack to your quarantine.  Check it out and leave a review.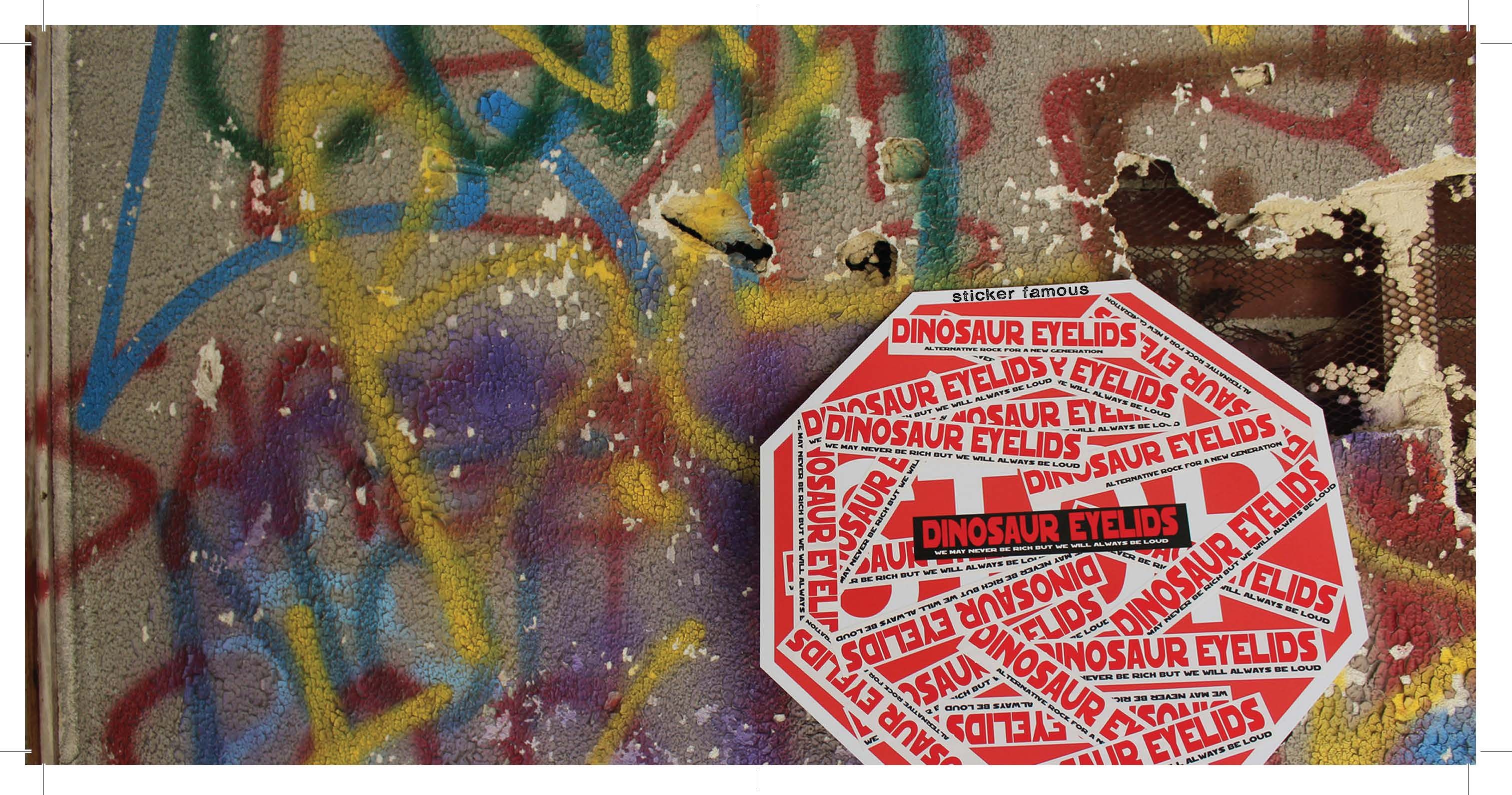 March 1, 2020
Our new album "Sticker Famous" is now available for pre-order on Amazon music!
February 17, 2020
Our new album "Sticker Famous" will be available for digital download and streaming March 3rd. The CD hits the streets April 25th at our show at The Fire with Ganto Barn, Erotic Novels, and Spooky Forest.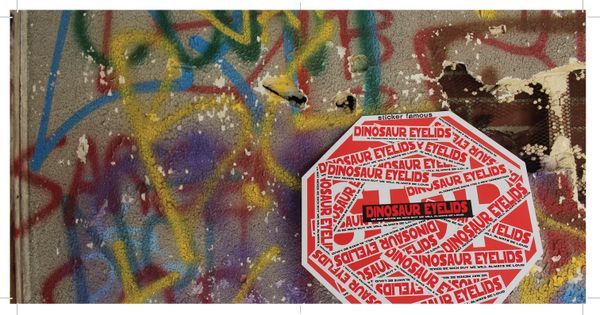 January 15, 2020
Dinosaur Eyelids named one of the New Jersey bands to watch in 2020 by NJ.com.
"Hang around the New Brunswick scene long enough and you'll see how it fluctuates: Rutgers kids form and erase bands every semester, basement show venues open and get shut down. But Dinosaur Eyelids have been a gritty rock stalwart of the Hub City circles for a decade and welcome in 2020 with the release of the group's sixth album "Sticker Famous". The official album release party will be on Saturday, April 25 at The Fire in Philadelphia. Look out for more live shows in 2020!" - Bobby Olivier, NJ.com
Listen if you love: Nirvana, Pixies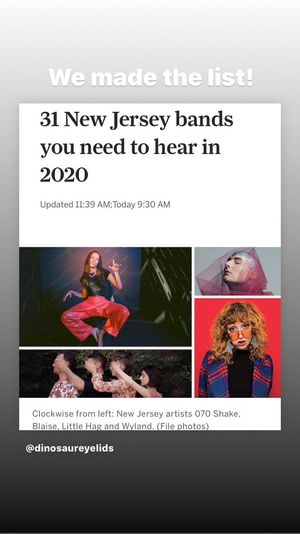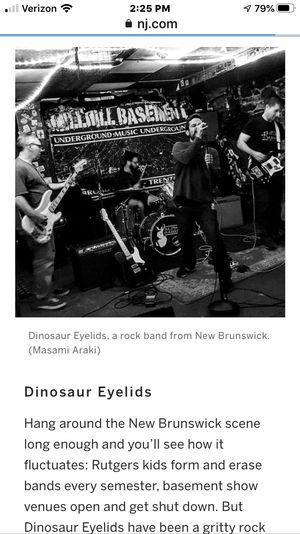 January 10, 2020
It's official. We're releasing our new album "Sticker Famous" on April 25, 2020 at The Fire in Philadelphia! Join us to celebrate with our friends in Ganto Barn, Erotic Novels, and Spooky Forest.
December 12, 2020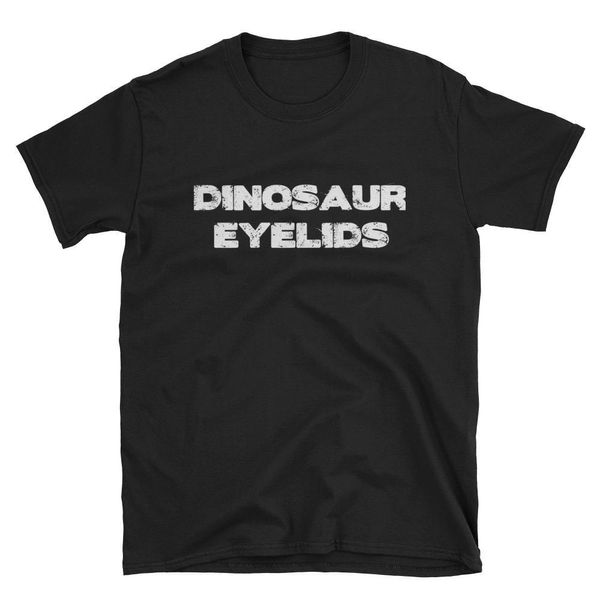 Grab our new shirt on sale from Amazon
June 18, 2019
Our new album Left Turn on Red is available on Spotify, Bandcamp, iTunes, and Amazon. Thanks to everyone who helped make our World Tour of New Jersey a moderate success. You can experience the fuzz here:
"Left Turn on Red" on Bandcamp
Left Turn on Red is receiving nationwide radio airplay and reached #50 on North American college radio on November 15th, 2017. Thanks to these stations for helping The LIDS make their Top 30 Charts!
KXUL (Monroe, LA) - #1 
WAYN (Detroit, MI) - #1
WIDB (Carbondale, IL) – #3
WDCV (Carlisle, PA) - #3
KSYM (San Antonio, TX) – #5
KWCW (Walla Walla, WA) – #6
WPHS (Warren, MI) – #7
WESS (E. Stroudsburg, PA) – #8
WRKC (Wilkes-Barre, PA) – #11
WRRC (Lawrenceville, NJ) - #11
WHWS (Geneva, NY) - #12
Laselle College Radio (Newton, MA) – #19
WMSC (Upper Montclair, NJ) – #21
KBBI (Homer, AK) - #28
We are 100% DIY rock and roll from the basements of New Jersey. We may never be rich but we will always be loud.
Join our mailing list for all the latest news and events! Thanks to all our fans for your incredible support.
-Evan, Patrick, Dan, Mark (The LIDS)
"Many groups have claimed to be rock and roll, and while they undoubtedly were, very few can exemplify the scene's various monumental sounds successfully in one album. This New Brunswick, New Jersey-based band has set the bar high for themselves, but with a raw talent like theirs, blowing away expectations seems like something they're used to." 
- Dean Scordilis, The Aquarian Weekly